The people of Syria have endured 11 devastating, desperate years and a burden almost too great to bear. The unremitting crisis has taken their homes, their livelihoods and education, their health and even their loved ones.
The figures are stark:
14.6 million of Syria's total population of 17 million people need humanitarian support
Approximately 400,000 people have been killed and more than half of the population have fled their homes, many repeatedly
Nearly 90% of the Syrian population live below the poverty line, while over a third live in abject poverty, faced with a daily and relentless struggle to survive
Many lack access to the most basic resources and services, including food, clean water and rudimentary healthcare
Spiralling food costs have pushed millions of Syrians into chronic food insecurity, unsure of where their children's next meal will come from. Malnutrition is rife
At least 50% of the working age population is unemployed, while many of those who can find work struggle to earn a sufficient living to feed their families
At least 2.4 million children are out of school and many more struggle to access a safe education
A child is killed every 10 hours due to violence. 7 million children are in urgent need of support.
The collapse of the economy and vital services has been exacerbated by the Covid-19 pandemic and the cumulative impact of 11 years of struggle and suffering.
With little prospect of an imminent resolution to the crisis, many Syrians are right now facing some of the worst conditions and greatest challenges of the last 11 years.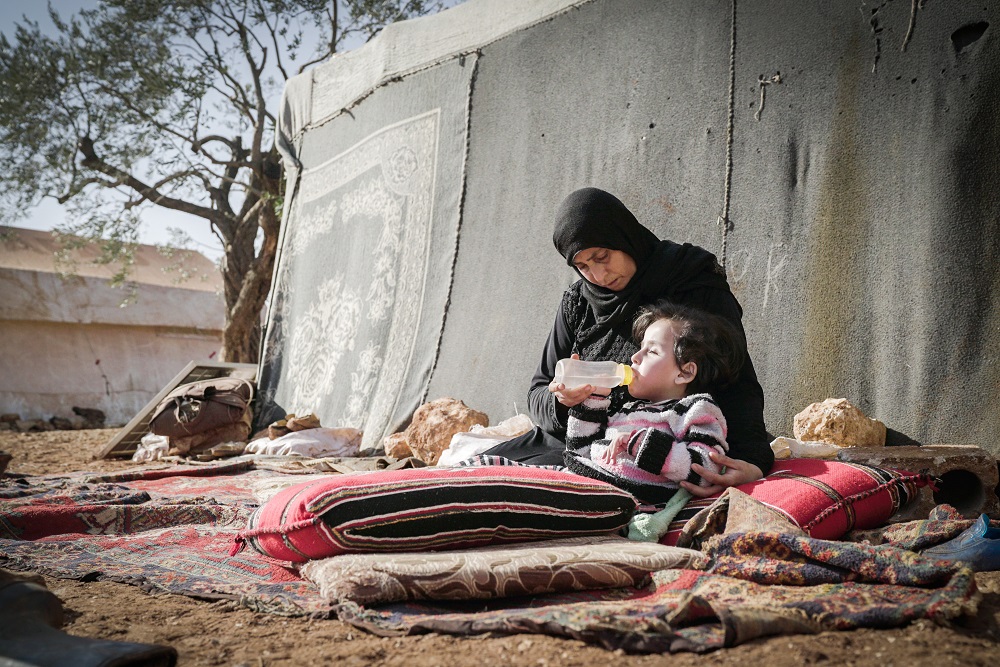 It is particularly difficult for the 6.9 million individuals thought to be still internally displaced within Syria – people like Umm Anwar, who lives in Kfarehmol camp. The widowed woman has heart disease, so her 15-year-old daughter is the family's sole breadwinner.
"I feel guilty about my child who works… she is young and should not work," says the mother-of-4, explaining that the little her teenaged daughter earns means they often go hungry. "When I lost my home and my husband, I felt like I had lost everything. We only have this tent left where we close the door with a blanket."
Ready for a future beyond crisis
Yet despite the unabating hardship they face, the Syrian people are not broken.
They stand ready for peace, ready to rebuild their shattered lives and ready to lay the foundations for a new future.
A future beyond crisis, where children can return to school free from fear; where the many widows and broken families can once again earn a living and support their children to prosper.
A future in which displaced families can escape the camps, where only a thin blanket masquerading as a door to their tent protects them from the realities of the outside world.
Nearly 12 million people helped
Islamic Relief continues to stand with the people of Syria.
Since the onset of the crisis, we have provided emergency relief and humanitarian aid, assisting nearly 12 million vulnerable people across the country, as well as refugee communities in neighbouring countries.
We have:
reached more than 3 million people through Ramadan and qurbani distributions
provided emergency food aid to more than 1.5 million people, including approximately 680,000 internally displaced Syrians forced to flee their homes
given essential winter survival assistance to nearly 1 million people
delivered vital healthcare support to almost 1.3 million people as part of our Covid-19 response efforts.
Standing alongside the Syrian people for 11 years
We have been providing lifesaving emergency aid – and we are also supporting the incredible, resilient people of Syria to regain some self-reliance.
We have established the only specialist heart surgery centre in northern Syria, treating patients who would otherwise be forced to make the dangerous journey to seek expensive treatment in a neighbouring country or whose untreated conditions would eventually lead to their death.
Ahmed, who doctors were surprised to find still alive due to the extent of his heart disease, received free treatment at the centre: "I feel like I've been born again and my heart is pumping perfectly. The centre is a lifeline for heart patients who do not have the money or the ability to travel."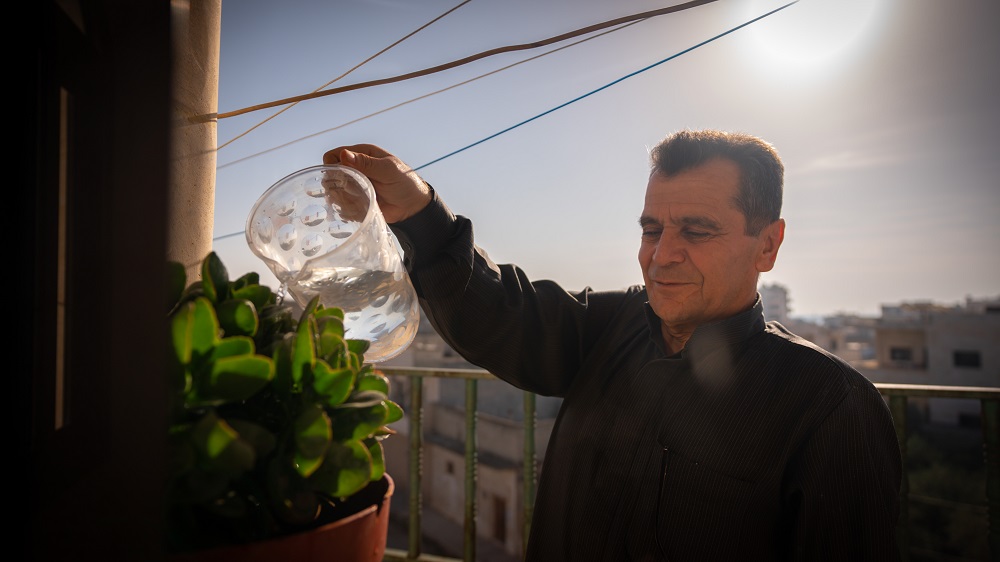 We have been at the forefront of the Covid-19 response, running mobile healthcare facilities, raising awareness and delivering life-saving equipment. We seek to ensure the most vulnerable can access free healthcare facilities.
This involves providing transport for those who would otherwise be unable to obtain medical treatment, wages to healthcare staff, essential training and emergency funding to help with running costs and to keep as many health facilities open as we possibly can.
In 2021, we helped over 28,000 Syrian children to receive a safe, high-quality education. Our funding provides monthly stipends to teachers, desks, laptops and printers, stationery, books and daily meals, as well as counselling and wellbeing support to help traumatised children to come to terms with everything they have seen and experienced.
Islamic Relief chief executive Waseem Ahmad said: "The suffering and hardship that the Syrian people continue to face is absolutely heart-breaking. Yet they have not given up hope for a brighter future. They have not given up on peace. We must not give up on them. Please help Islamic Relief continue to save lives and stand with the Syrian people."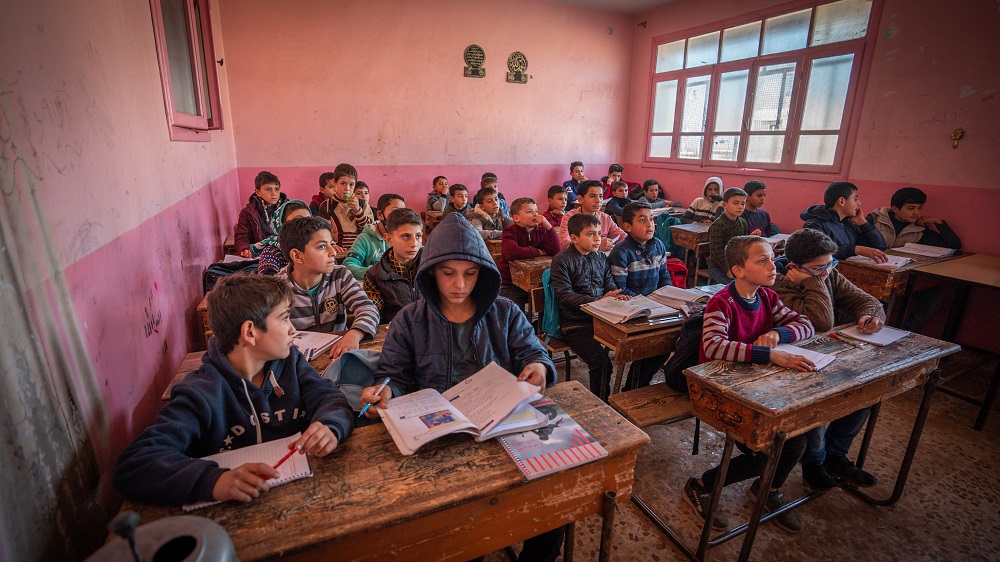 Help us continue to save lives and futures
With your support, we have remained alongside the people of Syria for the past 11 years. As they enter their 12th year of crisis, they need us still.
Will you still stand with the people of Syria?
Your donations mean we can go on giving lifesaving aid. We can ensure that people do not have to die of treatable health conditions. We can provide the next generation of Syrians with an education. And we can support the strong, inspiring people of Syria as they strive to build a better future.
Please continue to stand with the people of Syria: Donate now.